The Edit button on the Edit Account or Add New Account window brings you to the following window, for specifying the government forms and lines on those forms that this account forms all or part of.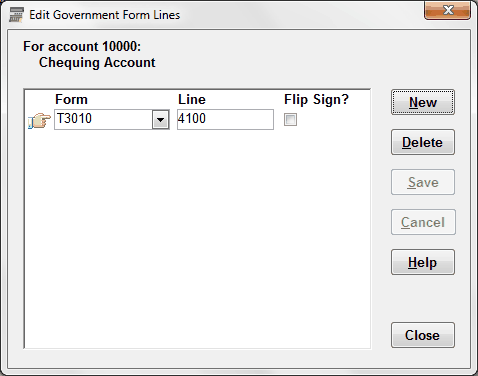 The window shows the lines for one specific account, whose account number and name are displayed at the top.
As long as there is at least one form line in the list, there will be a pointing hand icon, which points to the current row in the list.
To add a new form, click New, which will put you into a new empty line in the window.
To edit an existing form line, just click into either field on the line and start editing.
The government forms that you have used so far are on a drop-down list in the Form column. If you need a new form, choose the "<Add New>" option on that drop-down, which will bring up the Edit Government Form Names window, with a new empty line already started for you. If you enter something there, Save and Close that window, the new value will be entered for you on this window.
To save a new form line or edited form line, click Save, or you can click Cancel to cancel any unsaved changes. (Once you start adding or editing a form line, the Save and Cancel buttons are the only ones that can be used.)
To delete the row to which the hand is pointing, click Delete. (You will be asked to confirm.)
Click Help to view this help page. Click Close, or press ESC, to close the window.
Note on the entry of lines, duplication, and sort order
Any report that lists accounts or balances sorted by form and line sorts both the form names and names of lines in alphabetical, not numerical order, mainly because not all line numbers are just a number. (In particular, in the form 990 for U.S. charities, there are line numbers like "1a" etc.)
In addition, in the form 990, the same numbers (like "1") occur three times - once for balance sheet accounts, once for revenue accounts, and once for expense accounts.
To get around the problem of multiple uses of the same number, the sample charts of accounts provided with ACCOUNTS precede form 990 line numbers with "BalSh" for balance sheet accounts, "Rev" for revenue accounts, and "Exp" for expense accounts, in order to distinguish them.
And to prevent a problem with alphabetical sorting where for instance after "BalSh1" it would sort next "BalSh10", "BalSh11" etc., before getting to "BalSh2", the sample accounts precede one digit line numbers with "0", so "BalSh1" becomes "BalSh01".
For the Form 990-EZ, there is no problem with duplication, but the same problem does occur with the sorting, so single-digit line numbers like "1" are entered as "01" in the sample charts of accounts.
If you are using a sample chart of accounts but add further accounts, and then add form lines for them manually, be sure to stick to this numbering convention. You may want to run off Reports à Listing à Chart of Accounts with Government Form Lines to see the existing codes that have been used for lines.
Reporting on Government Forms
As well as the report mentioned in the previous paragraph, which lists the government form lines for each account, there is also Reports à Summary à Government Form Amounts, for use when you are actually submitting those forms. It lists all accounts that are attached to government form lines for one selected form and a specified range of dates, with their balances, by lines of the form.