It is recommended that all users of ACCOUNTS register, to get onto the mailing list. It is actually required that you do this for Software4Nonprofits.com / Cooperstock Software to be able to process any payment you make for the program, or give you an evaluation extension request, or a license key.
If you have not yet registered (or informed the program that you have done so) a window will come up whenever you start the program, informing you of the benefits of registration, and asking you about registering. It gives you three options: going on to register (as shown below), informing the program that you already registered online or from another computer, or skipping that and being asked about it the next time you start ACCOUNTS.
There are two ways to register. Many users will already have registered using the registration form on the REGISTER page on the web site. If you haven't done that, however, you can also register using the Tools ⇒ Register Online menu option in the program.
When you select Tools ⇒ Register Online, or are sent to this window from the window asking you whether you have registered (if you click Register Now in that window), a window such as the following will come up: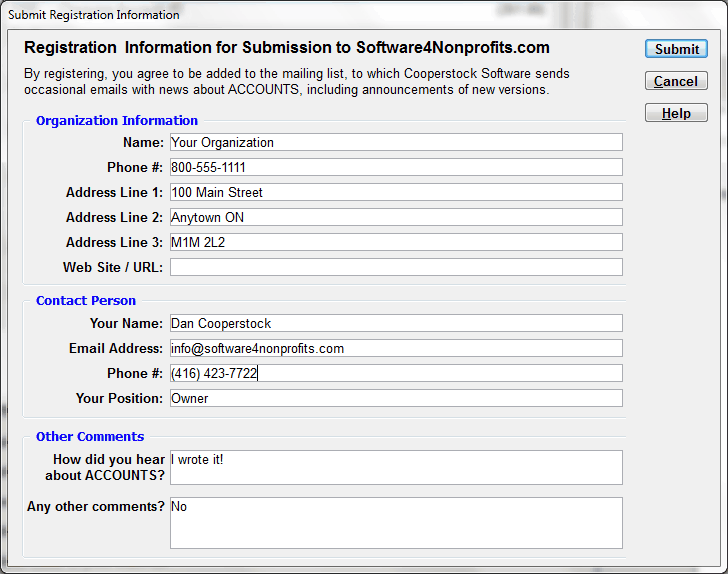 Some of the fields are initially filled in from the information in the Maintenance ⇒ Organization Info window. If you have previously used Maintenance ⇒ Email Sending Configuration to configure email, the email address for this window will be taken from that configuration.
You can fill in or edit all of the fields. If you do this registration multiple times on the same computer, your previous entries for those fields will be displayed. However, there is normally no need to register multiple times, unless your contact information changes.
After filling in all desired fields, click Submit. That will bring up the REGISTER web page on the Software4Nonprofits.com web site, with all of the information from this window pre-filled into it. You can review the information, change any of it if desired, and then click Submit on that web page to actually do the registration. Clicking Submit on this window will also close this window. Within a reasonable period of time (usually less than one day), you should receive an email acknowledgment of your registration back from Software4Nonprofits.