By using the Maintenance ⇒ Funds for Accounts menu option, or the Funds button on the Chart of Accounts window, the following window is opened: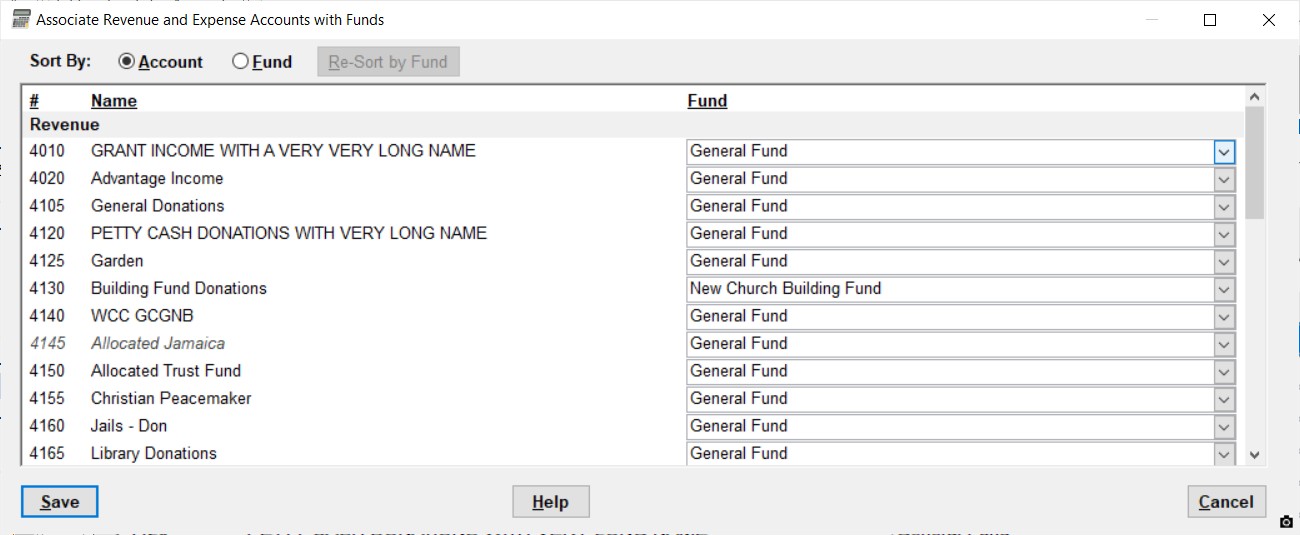 This window allows you to set which Fund account each existing Income or Expense account is associated with. To understand what this does, see Funds and Fund Accounting.
While you can click into the fields for the account number and name, you can't edit them. The only thing you can edit on this window is the associated fund for each account, in the drop-down at the right. You cannot add any accounts on this window - do that from the Chart of Accounts window. (You can also edit the Fund for an individual account from the editing window for an individual account, from the Chart of Accounts window.)
The account numbers will be omitted from this window if you have chosen the relevant setting about that on the Maintenance ⇒ Main Window Options window.
When you have finished making any desired changes on this window, click Save or press Enter. If you haven't made any changes, or wish to cancel any changes, click Cancel or press ESC instead.
Sort Orders
The default sort order for this window, the first time you use it, is the standard chart of accounts order by Account.
However, you can click the radio button Fund at the top to switch to sorting by Fund, and within that, by Account.
If you are sorting by Fund, and you change the fund for an individual account, the sort order will then be obviously wrong, because the account you just changed doesn't immediately jump into the section for that Fund. (We thought that would be too weird!) If you have made one or more changes and want to fix the sort order, just click the Re-Sort by Fund button (which is only available when you are sorting by Fund) to fix it.
---
This topic was last edited on Dec 3, 2019