There are two ways to select the built-in reports, Custom Reports and Memorized Reports in ACCOUNTS:
•with the Report Browser, that allows you to select from a tree of reports, and see descriptions for them before you run them, or
•with the various sub-menus and menu options of the Reports menu.
Both of these ways include all of the same reports. The Report Browser is better for learning which reports are available, and what they do, whereas the sub-menus are better for quickly selecting a report when you already know which one you want.
Use the Reports ⇒ Report Browser menu option or Report Browser quick link to see the Report Browser window. It will initially appear something like this: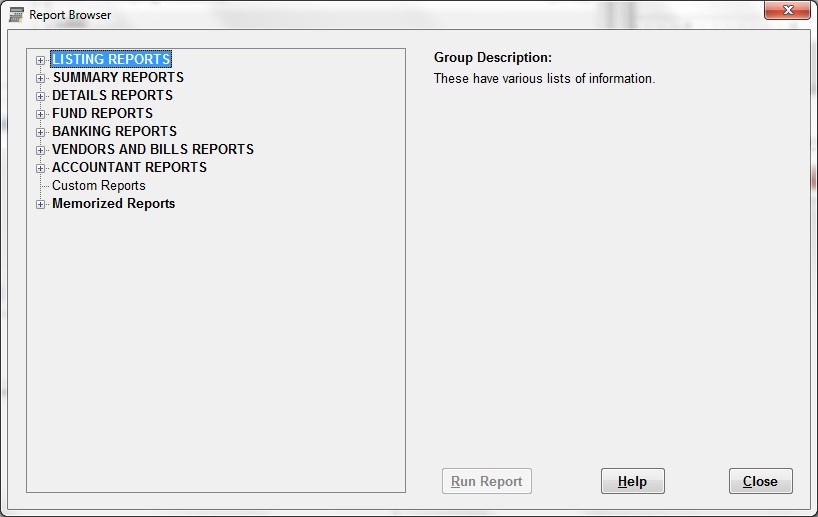 As you can see, the reports are listed in a tree-like view on the left, similar to trees you may have seen in My Computer or Windows Explorer. You can open up any of the groups by clicking on the plus sign to its left, double-clicking its name, or pressing the right arrow key or space bar when it is highlighted. You can then move around with the up and down arrow keys, or the mouse. Here is the same window with some of the groups opened up, and an actual report (rather than the name of a group of reports) highlighted: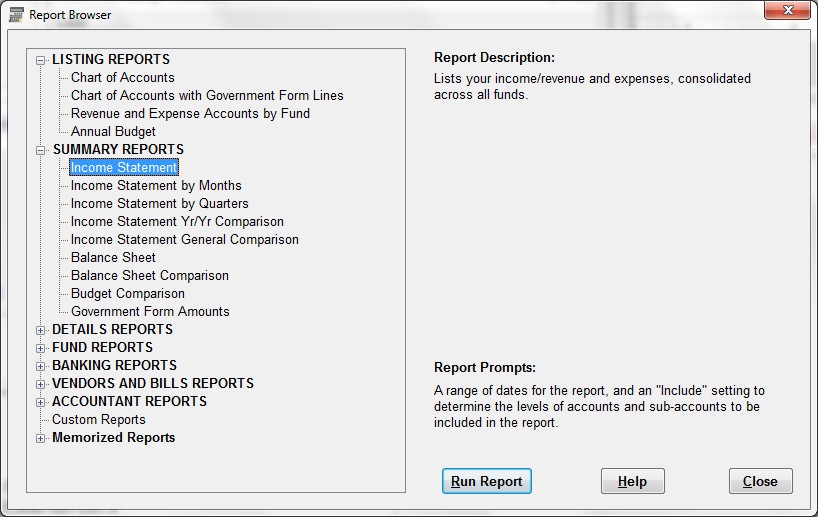 Now that a report is selected, the Run Report button is enabled (not "greyed out"). You can run the selected report by pressing Enter, double-clicking the name of the report, or clicking on the Run Report button.
When specific reports are selected, their description is shown on the right, along with information on what data, if any, that report prompts for before displaying the report. (For instance, a range of dates.) Browsing through these descriptions allows you to get a good idea of the range of reports available in ACCOUNTS, and what they all do, and to find a report that does what you need.
Selecting "Custom Reports" and clicking Run Report just brings up the Custom Reports window, on which you can design a new custom report.
The list under "Memorized Reports" is the same as the list in the Reports ⇒ Memorized Reports window. Under Report Description on the right, if the Memorized Report has been given a Description, it will be displayed, and if not, just the Name will be shown in that area. If you do not yet have any memorized reports, this section will not appear in the tree on the left.
When you are finished browsing or running reports from this window, click Close (or press ESC) and it will close. As a convenience, if you open it again with Reports ⇒ Report Browser, during the same run of ACCOUNTS, the tree will be open to exactly the same place it was open when you closed it.
---
This topic was last edited on Jun 25, 2019