When you are contacting us for technical support on a problem you are having in the program, it can often be helpful to include one or more screenshots. A screenshot is an image of the messagebox or screen you need help with.
Screenshots of Program Windows
With the current version of the program, most windows have a small camera icon in some corner of them, most frequently the bottom-right corner. Here's a sample: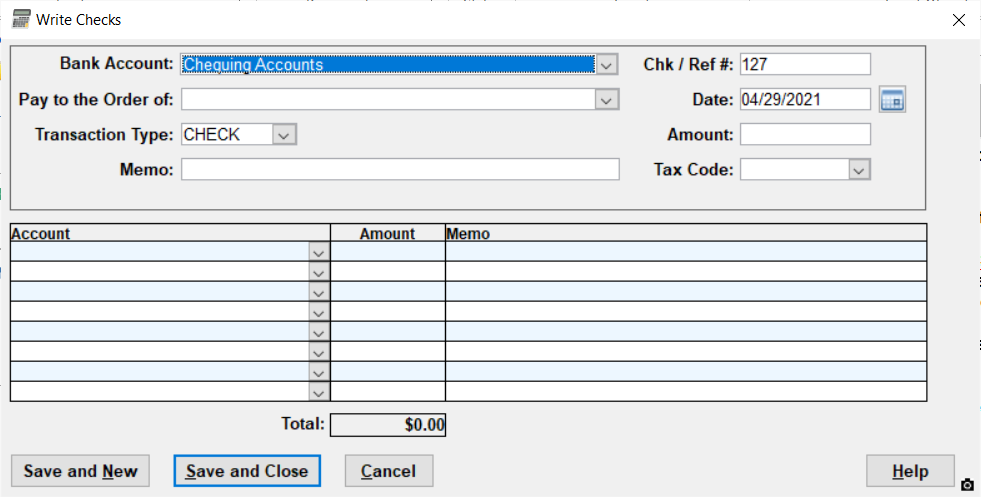 If you hover over that camera icon, you will see a popup tooltip that says "Email Screenshot of this Window". If you click on the camera, it will take a screenshot, save it into an image file named Screenshot.bmp in your program's Temp directory, and bring up the following window that allows you to email it to us: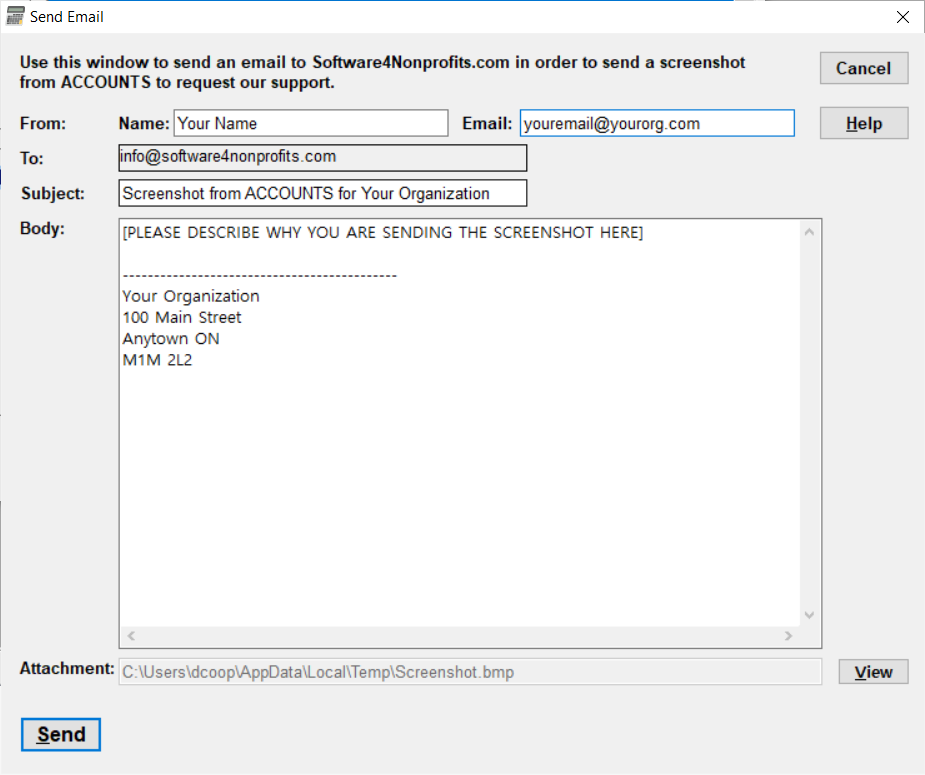 Please be sure to correctly fill in your Name and Email for replies, and replace that first line in the Body section with a description of what you were doing and what your issue is with the situation.
You can use the View button to the right of the Attachment file name to see the image that will be attached (the screenshot of the window on which you clicked the camera icon).
When you are ready, click the Send button to send the email to us. You do not have to have configured emailing in the program with the Maintenance ⇒ Email Sending Configuration menu option for this to work! You will also receive an email yourself, sent to the Email address you entered, showing what you sent to us, with the same attached screenshot.
Some windows do not have the camera icon, either because they are already windows for sending screenshots or other emails (like the one above) or because, for technical reasons, we are unable to add them. (File Open and File Save dialog windows are examples of ones we cannot add the camera icon to for technical reasons.)
Screenshots of Messageboxes
Most messageboxes in the program have a small camera button at their bottom right corner, as in the following example that comes up if you enter an invalid date:

If you click that camera button, nothing happens immediately, but when you return to the program by clicking a regular button in the messagebox (like OK in this example), you will be prompted to email a screenshot of that messagebox using the window described above.
Some technical messageboxes that can come up in the program, generally ones that we do not expect to come up except in the case of unusual errors, will not have the camera button, but rather have text added at the end of their message such as the following:
Note: After you click a button in this messagebox, you will be prompted to email a screenshot of it to Software4Nonprofits, with your comments. You can cancel that window if you do not wish to do so.
That message should be self-explanatory - after you click a button on the messagebox, such as OK, it will take you to the window above for emailing us a screenshot of the messagebox.
In either case (using the camera button on a messagebox, or the technical messageboxes that tell you they will automatically prompt you to send the screenshot), you get to the window for sending the screenshot. Click Send in that window to send it to us, or Cancel if you don't want to send it to us. After that, the program will continue on appropriately, based on whatever regular button you clicked in the messagebox and its normal processing following that click.
For windows that do not include the camera icon, or if you are reading this help page online but using an older version of the program that does not have the camera icons on windows and camera buttons on messageboxes, you can use the following method, which also works in any other program you are using!
How to Email Screenshots without the Camera Icon
You can take a screenshot of any single message box or window by pressing Alt+PrtSc (or on some laptops, Fn+Alt+PrtSc). Pressing that doesn't appear to do anything, or make any sound, but it puts that screenshot into the Windows clipboard. You can then paste that directly into an email with Ctrl+V, a right-click and pick Paste from a popup menu, or the Edit ⇒ Paste menu option in your email program. If that doesn't work in your email program, you can instead paste it into a Word document that you can send to us.
Please be sure to use Alt with PrtSc, so it doesn't take a screenshot of your whole Windows screen, and please do not send camera photos - both of those alternatives are generally huge, and much harder for us to read.
If you have any problems following the instructions using Alt+PrtSc in this section, you can watch our short video demonstration that is included on the Demos and Samples web page.
---
This topic was last edited on Nov 14, 2021