Some users of DONATION may also use 3rd-party online donation services, such as Vanco, that identify their donors by Customer IDs, and need to store those IDs in DONATION for matching, when importing donations.
Customer IDs (called the Abundant Customer ID and Abundant Account ID) are also used and recorded in the program if you use the Abundant online donation system, which is integrated with DONATION.
If you need to do this, you first need to check "Customer IDs" in the Show Fields area of the Donor Details tab of Maintenance ⇒ Main Window Options. Once you have done that, among other changes an IDs button appears with the other buttons for the Donor Details area of the main window, to the right of Save and Cancel. It is only enabled when you are not editing a donor's details.
Clicking that IDs button will bring up the following window for maintaining the Customer IDs for the currently-displayed donor (showing an example with one Customer ID saved already):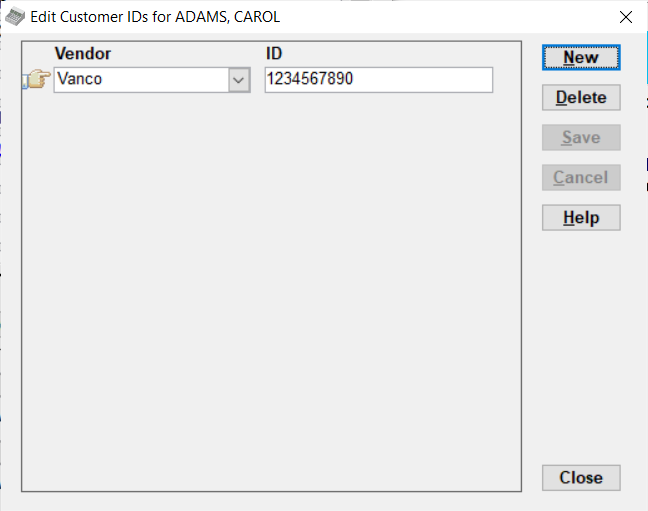 This window works like many others in the program.
Clicking New will display a new line on which you can enter an ID. To edit an existing line, just click into it and edit as desired. You save changes in a new or edited line with the Save button, or you can cancel those changes with the Cancel button. The Help button brings up this Help topic. Close the window with the Close button.

The Vendor drop-down list in the editing area includes all vendors that the program currently has any special features for working with. Currently that is Abundant (with both a Customer ID and Account ID) and Vanco.
See Importing Vanco Donations and Abundant online donations for details.
This window only maintains the Customer IDs for the currently displayed donor on the main window. If you know a Customer ID but not which donor it has been assigned to (if any), you can use Reports ⇒ Donor ⇒ Customer IDs to view all currently stored IDs, in order. That will allow you to find the donor associated with a given ID.
---
This topic was last edited on Apr 30, 2021