If you have already finished the initial setup of DONATION and gotten to the main window, please continue reading this Help page at
the section on Passwords.
Initial Startup Window
The first time you start DONATION after you install it, the program will show you the following window:
It is mostly self-explanatory, if you read it carefully. New users, whose organization has not used DONATION before, should stick with the first option (the default) and just click OK. Users who have a backup database from a previous installation, either because they have to re-install after getting a new computer or having their computer rebuilt, or because they are transferring the program from another user in their organization, should pick the second radio button option and click OK.
If you selected the 2nd option, to restore a backup database, you can see Restoring Backups for more details about the restore process. The startup windows described in the section below will not be shown.
N.B. If you do select this 2nd option, check the filename of the backup that you have received, or that was emailed to you. If it is DONATION4.DB.GBK, or DONATION-YYYY-MM-DD.DB.GBK, where YYYY-MM-DD represents the date the backup was made (or DONATION4.something.GBK or DONATION-YYYY-MM-DD.something.GBK), do not check the checkbox below the text for this radio button. However, if the backup was emailed to you as an attachment, and it is named DONATION4.DB.S4B or DONATION-YYYY-MM-DD.DB.S4B (or DONATION4.something.S4B or DONATION-YYYY-MM-DD.something.S4B), do check the "Use emailed backup instead..." checkbox, and refer to the Restoring Emailed Backups page for more information.
If the backup database you want to restore is named DONATION3.DB (or DONATION3.something), do not select the 2nd option. Use the first option, initialize your new database normally, then use the Backup/Restore à Restore Old Database menu option to restore that backup, which is from a very old version of DONATION (version 2.70b or earlier).
Further Startup Windows
In the more usual case where you selected the first option in the initial startup window, for new users, the program will prompt you with two or three additional startup windows before you can start entering donors and donations.
First window:

This defaults to the current year. However, if you have a backlog from before the current year, you can instead enter the prior year that you want to start on here. (For instance, suppose it is early in 2012, and you still haven't done anything with the donations from 2011. When it prompts for the year, enter 2011.)
Second window:
In this window, you enter your organization's basic information (name, address, fiscal year start if different from the calendar year etc.). You can also come back later and change this basic organization information with Maintenance à Organization Info. For more details on this window, including a discussion of whether or not you should enter anything in the Charitable # field, see Editing General Info.
Licensing and Evaluation Window
If you do not yet have a license key for your organization for DONATION, or have not yet installed it on this computer, and you aren't using the free feature-limited Lite version (which doesn't need license keys), the next thing you see will be the Licensing and Evaluation window. Please read the Help on that window for details. During your initial evaluation of DONATION, you can just click Continue on that window to go on to the main window.
Register the Program Window
If you have not yet registered the program, or informed the program that you have already done so online or on another computer, you will also be prompted about registering DONATION, with the following window: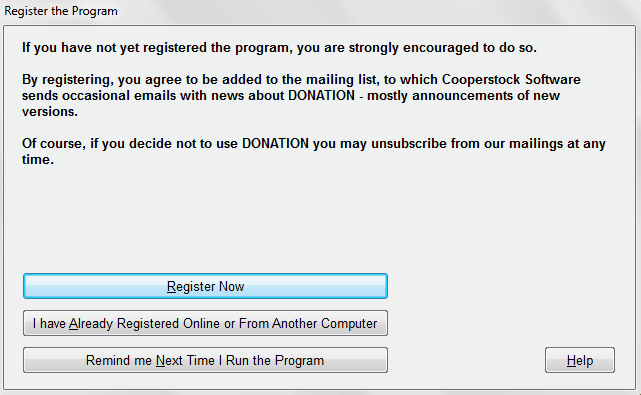 You may already have registered using the form on the REGISTER page on the web site, in which case you can click the second button in the window above. If you click the first button, another window will now come up prompting you to register.
You can optionally set up a password for entry to your program by using Maintenance à Change Password à Program Entry Password. (If you started by restoring a backup, any passwords that had been previously set up will already be present.)
The first time you use this menu option (or any of the password setup windows), leave the Current Password field empty, since there is no Current Password. If you have set up a Program Entry Password, you have to enter it on the password window every time the program starts up. It will be displayed as dots as you type it in. If you want to see it as you type it in, you can check the "Make passwords visible rather than dots" checkbox. If you do specify a password, don't forget it! If you do forget it, contact me and I will assist you.
You can also set up a password for more limited users who cannot see all donor or donation details, with Maintenance à Change Password à Limited User Password. For details on the use of this password, see Using a Limited User Password.
You can also set up a password for generating receipts with Maintenance à Change Password à Receipt Password. This can be used to restrict the generation of the receipts to someone that has this password.
Other Initial Setup
Additional setup you may wish to do before you start using DONATION includes:
See also: the Regular Operating Procedures page for an introduction to your daily activities.